The Navionic's iOS and Android app has proved incredibly popular with boaters throughout the world and it's now just introduced some game changing features.
The Miami Boatshow 2015 saw Navionics pick up the Innovation Award for their new Sonar Chart Live platform and the best news is that it's designed for and compatible with our wireless NMEA devices – like AquaWear, WLN10 and NavLink.
The new version allows NMEA depth and GPS data to be integrated into the app allowing iOS devices (like iPads without the GPS feature) to utilise boat data when connected through a Digital Yacht NMEA-Wireless server.  Even if your iPad has GPS (the 3G/4G models), you'll benefit from enhanced accuracies from your boat's systems, better battery life and reception below decks – so your iPad really will be an integrated part of the boat navigation network.
But here's the real plus….
Navionics can now record depth information from your NMEA connected instruments, depth sounder or fish-finder allowing a real time depth contour to be built onto your chart.   When connected to a WLN10 (details HERE), depth data is streamed to the app and shows an updated depth contour onto the detailed chart.
Watch the depth contours updated on you chart as you cruise.  Installation is easy – just like this via a simple 2 wire NMEA 0183 connection:

Here's a picture too of what to expect – and when you see in real time, it's awesome: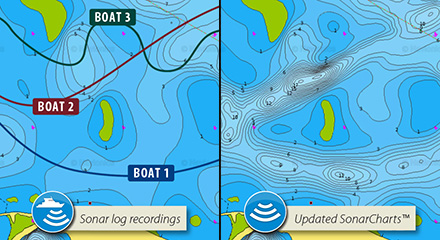 Collected data is then also sent to Navionics (when you have an internet connection) to be post-processed who then process and update your chart with a download – not just with your data but with other users too allowing for the best possible crowd sourced information.  As they say, "Want better charts? Go boating!"  Check out the video below