Well the 2017 boat show season is in full swing and our iKommunicate gateway is getting lots of attention wherever it goes. The picture above was taken last week at the NauticSud 2017 show in Naples (Italy) where Raffaele Montella was exhibiting his FairWind Multi-Function Display system.
This really interesting project brings together a number of open source technologies and projects in to one integrated app for Android tablets or popular low cost development hardware like the UDOO Neo. FairWind collects onboard data from NMEA0183 and NMEA2000 systems and older Raymarine/Autohelm SeaTalk 1 systems, before analysing and displaying it or sending it to the Cloud.
As shown above, FairWind works very well with iKommunicate, receiving the Signal K Delta messages that iKommunicate transmits over a websocket. The FairWind App is available from the Google Play Store and is definitely a project to keep an eye on.
At the recent Helsinki boatshow, two of our dealers Marinea and John Nurminen (photo below) were showing iKommunicate as well as other Digital Yacht products.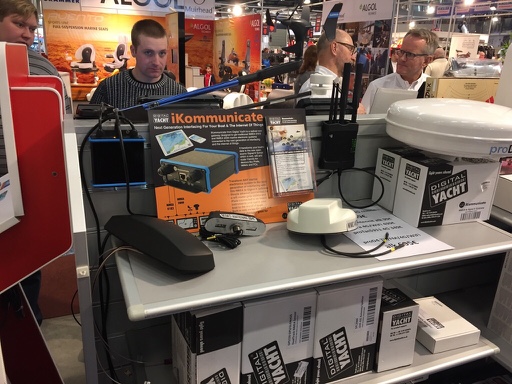 Finally in the US, we have just finished the Miami boat show, where a number of exisiting iKommunicate owners came to see us and also quite a few new ones. It was great to get good feedback and requests for new features, so thank you for taking the time to come and see us.