TimeZero (formally MaxSea) PC navigation software brings sophisticated navigation to reality with radar and AIS/MARPA integration, multiple chart formats and even cloud based syncing of user data to the TZ iBoat iPad app for the ultimate integrated system. Digital Yacht Aqua PCs, AIS, sensors, NMEA interfaces and wireless gateways are the perfect hardware partner plus we now offer radar integration with the latest Furuno DRS4D NXT digital doppler radars.
Our solutions here integrate NMEA 2000 AIS, GPS and instrument data with TimeZero software creating a 23.5″ multi function system with options for up to 3 displays.  In summary, this really is next generation navigation at a remarkable affordable price!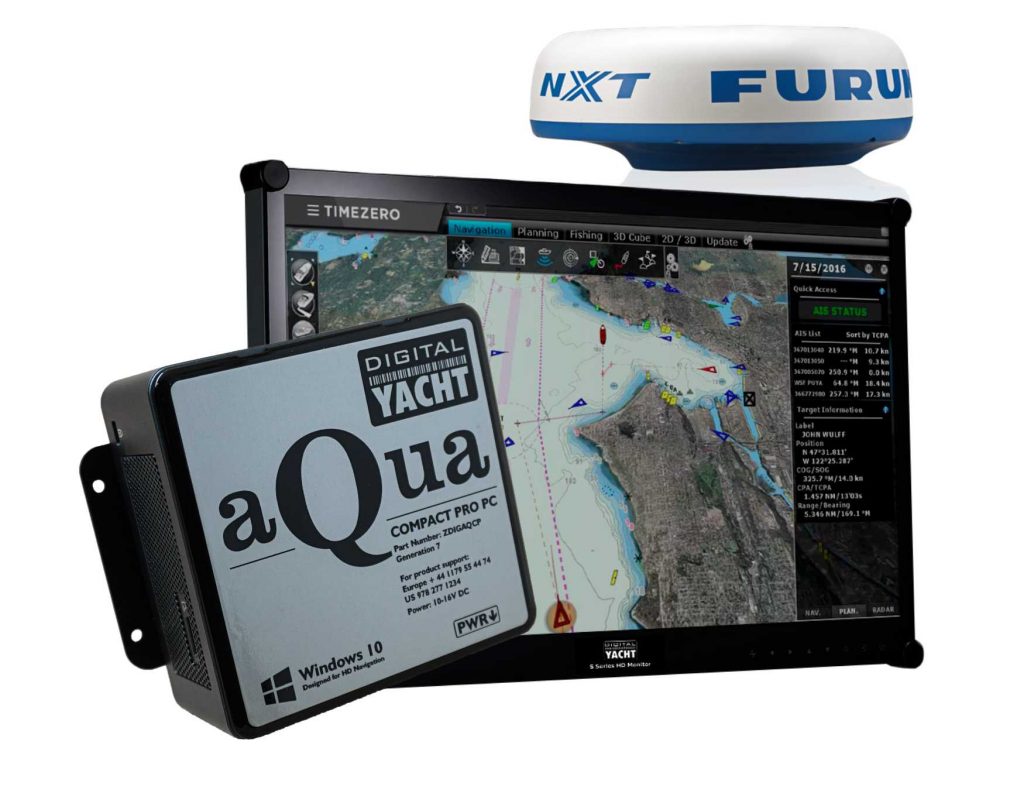 TIMEZERO Features – Our Premium Software Choice
A Digital Yacht PC based navigation system offers great value and sophistication compared with a traditional multi function plotter. This flexible platform allows for multiple applications to run so you can choose your PC charting software for your own specific needs and have the flexibility of upgrading in the future without having to adopt proprietary ecosystems. Aqua PCs are the ideal marine PC hardware platform – super reliable, DC powered and ultra compact, they utilise the latest Intel processors and have excellent connectivity options through our NMEA 0183/2000 and wireless interfaces. Easy to use Windows 10 is also pre-installed.
TimeZero is a full featured chart navigation application with AIS and radar integration.  We also have our SmarterTrack PC software for basic charting, AIS overlays and Navionics compatability but TimeZero is our choice of "Premium" application for our PC products.  TZ Navigator will suit most recreational users with an option to add a radar licence if required. TZ professional includes this functionality and more including sonar and bathymetry options.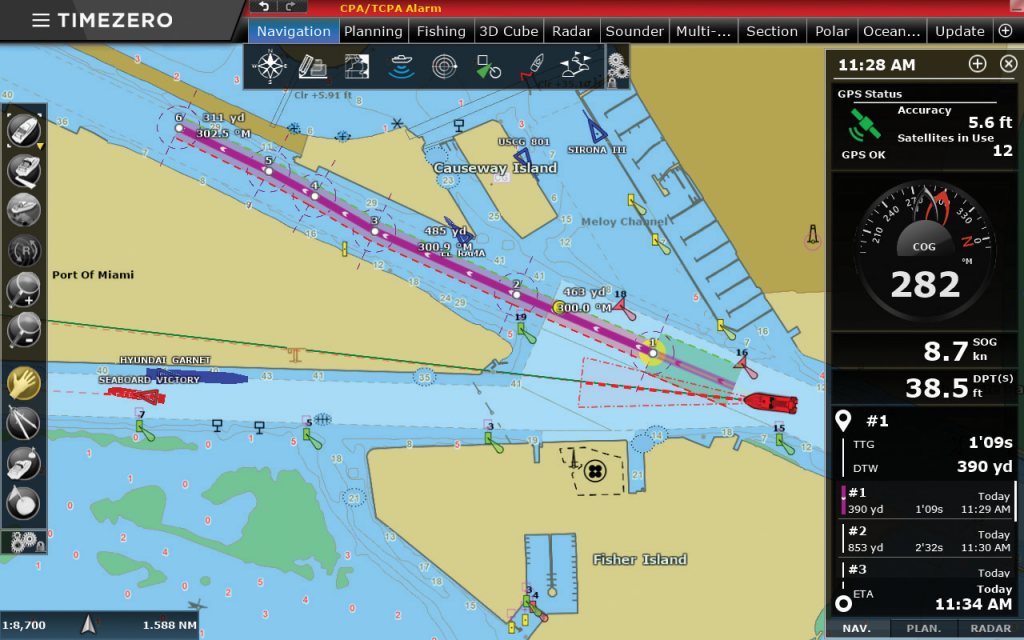 TZ Navigator Version
Sophisticated navigation software with advanced navigation and AIS capabilities and wide choice of charting formats. Choose from MapMedia for predominately raster based charting from official ENCs, C-Map or Navionics charts. This bundle (UK & EU) includes 1 Wide chart region of your choice. When you place your order, we will contact you to confirm region and type. Charts can be viewed at www.maxsea.com. We have different packages for our US Customers through our US office.
It's fully compatible with Windows 10 and also with our iKonvert USB-NMEA 2000 gateway, USB-NMEA 0183 adaptor and NavLink wireless gateways. It also supports an autopilot output via our USB-NMEA 0183 adaptor. Create marks, waypoints, routes, boundaries, lines, annotations & even add a photo as user objects. Waypoints and routes can also be sync'd across the cloud and used in the TZ iBoat iOS app for an integrated tablet and PC solution. Full AIS display capability with CPA/TCPA alarms and target list and integration with internet AIS like Marine Traffic if an internet connection is available. Download weather for an animated display layered onto chart with wind, temp, pressure and wave information.
Options include Radar Module (compatible with new Furuno DRS4DNXT radars), Sounder Module and Weather Routing Module. The Weather Routing Module is ideal for long distance sailors and provides routing according to wind, waves and currents with isochrones overlay. Routing calculation automatically avoiding the coastline and shallow water (with possibility to set the depth limit), dual route calculation sail/motor (depending on the wind and theorical speed limit) and expected wind conditions displayed along the track.
Delivered as a digital download or pre-installed as an option on our Aqua PCs, it comes with a licence for up to 2 PCs.
TZ Professional Version
TZ Professional is delivered as a single user licence (for 1 PC) and has the radar unlock included. TZ Professional has additional features to suit workboat, fishing and commercial users such as extended alarms and guard zones, S57 ENC charting options, IP and Flir camera support, SAR routing patterns, multiple data layers and sophisticated bathymetry capability with PBG and 3D Sonar modules and external equipment.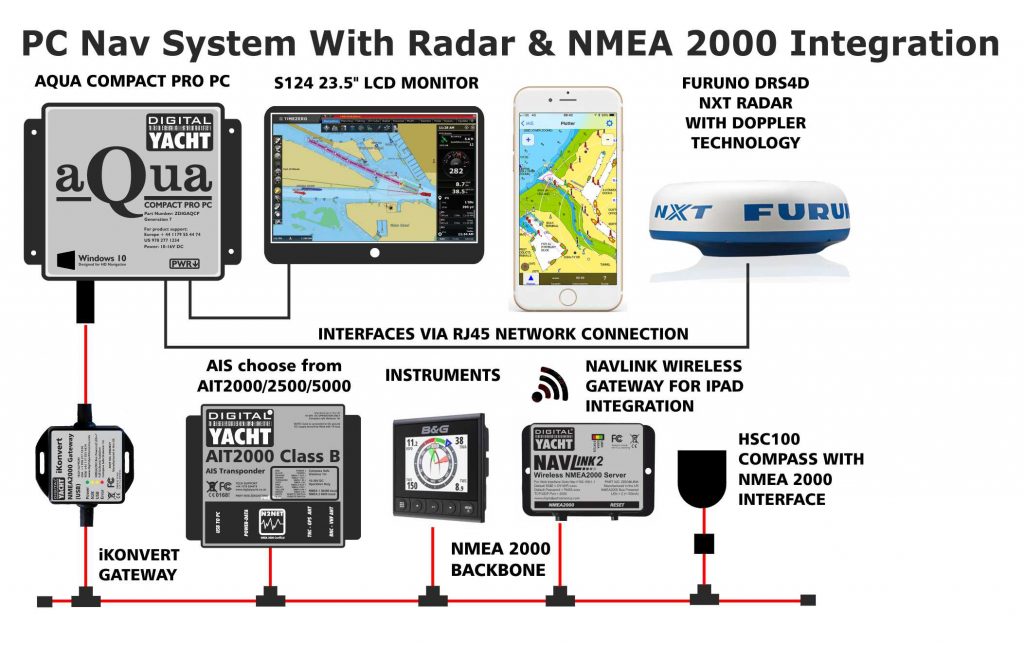 System Ideas
We've produced a shortform 4 page catalogue and priceguide (GBP) detailing suggested systems.  You can download from HERE or click on the image below.  For a custom quotation or US, EU and ROW options please contact us by email or you can directly find out more about our solutions on our website.