One of the most common problems, that the Digital Yacht support team help our 4G Product customers with, is SIM card issues. This little piece of plastic, with its integrated memory chip, containing a unique identifier, that allows your data usage to be tracked, causes a disproportionate amount of wasted time and effort, so we decided to publish a guide to avoid the pitfalls that we regular see.
Not all SIMs are created equal and with the majority aimed at mobile phone users, it is important that the SIM you use in our 4G Products meet the following criteria….
It is a 4G SIM (not 5G)
It is a Data Only SIM – designed for wireless routers and not mobile phones
The SIM should not have a PIN number enabled or if it does, that you know what it is
The SIM has not reached its Data Limit
That the SIM is properly registered and enabled by the network operator
If being used Internationally that the SIM has roaming enabled
Once you are confident that your SIM meets all of the above criteria, please insert it in to our 4G Product and using the web interface, go to STATUS>NETWORK where you should see a screen similar to the one below, minus the red annotations….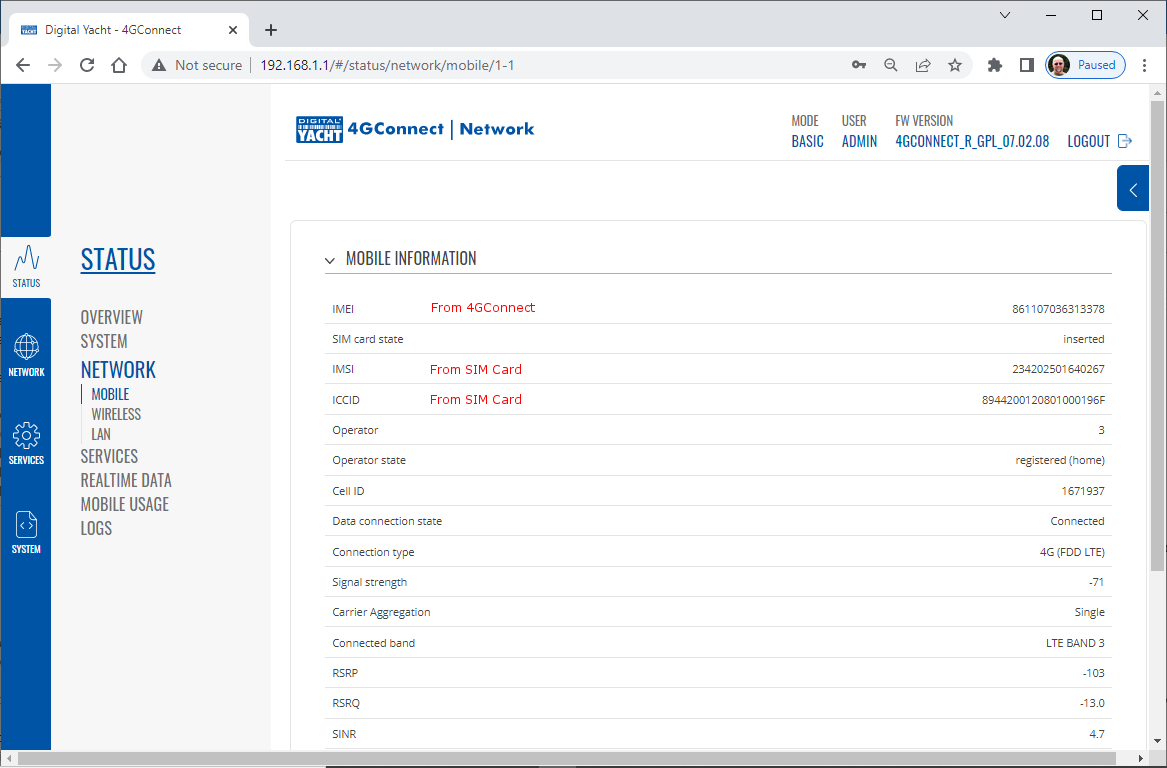 The key pieces of information to look for on this page are that the SIM Card State shows "Inserted", which means that it has been read by our 4G Product. Then you should see the IMSI and ICCID numbers, which are stored on the SIM and used by the 4G Product to identify itself to the network operator.
IMSI = International Mobile Subscriber Identity. This is a unique identifier that defines a subscriber in the wireless world, including the country and mobile network to which the subscriber belongs. It has the format MCC-MNC-MSIN. MCC = Mobile Country Code (e.g. 310 for USA); MNC = Mobile Network Code (e.g. 410 for AT&T), MSIN = sequential serial number. All signaling and messaging in GSM and UMTS networks uses the IMSI as the primary identifier of a subscriber. 
ICCID = Integrated Circuit Card ID. This is the identifier of the actual SIM card itself – i.e. an identifier for the SIM chip. It is possible to change the information contained on a SIM (including the IMSI), but the identify of the SIM itself remains the same.
The IMEI number is unique to the 4G Product's modem and will always be displayed, even if the SIM is not inserted…
IMEI is short for International Mobile Equipment Identity and is a unique number given to every single mobile phone, typically found behind the battery. IMEI numbers of cellular phones connected to a GSM network are stored in a database (EIR – Equipment Identity Register) containing all valid mobile phone equipment. When a phone is reported stolen or is not type approved, the number is marked invalid.
Other key information on this page are the Operator and Operator State. The image above was using a SIM from UK operator 3 which was a fully registered, had plenty of Data and had established a data connection.
Assuming that you have followed this guide and selected the right SIM card, then there is one last hurdle to overcome, making sure that our 4G Product is using the right APN settings for the SIM's network operator. The Access Point Name (APN) settings, vary from network operator to network operator, and with the latest firmware updates, our 4G Products will automatically try and set these from a database of popular APN settings. However, for some networks, it is still necessary to manually enter the APN settings, please see our configuration video for more details.
Once you have everything working, there should be no need to make any further changes to the settings, but occasionally the connection will fail. This can be for a number of reasons, but more often than not, particularly if you are using a Pay As You Go type SIM or you are using International Roaming, it will be a network operator issue and you should check that you have not received an SMS notification from the operator. To do this, go to the SERVICES>MOBILE UTILITIES>MESSAGES  screen where all of the received SMS messages are displayed…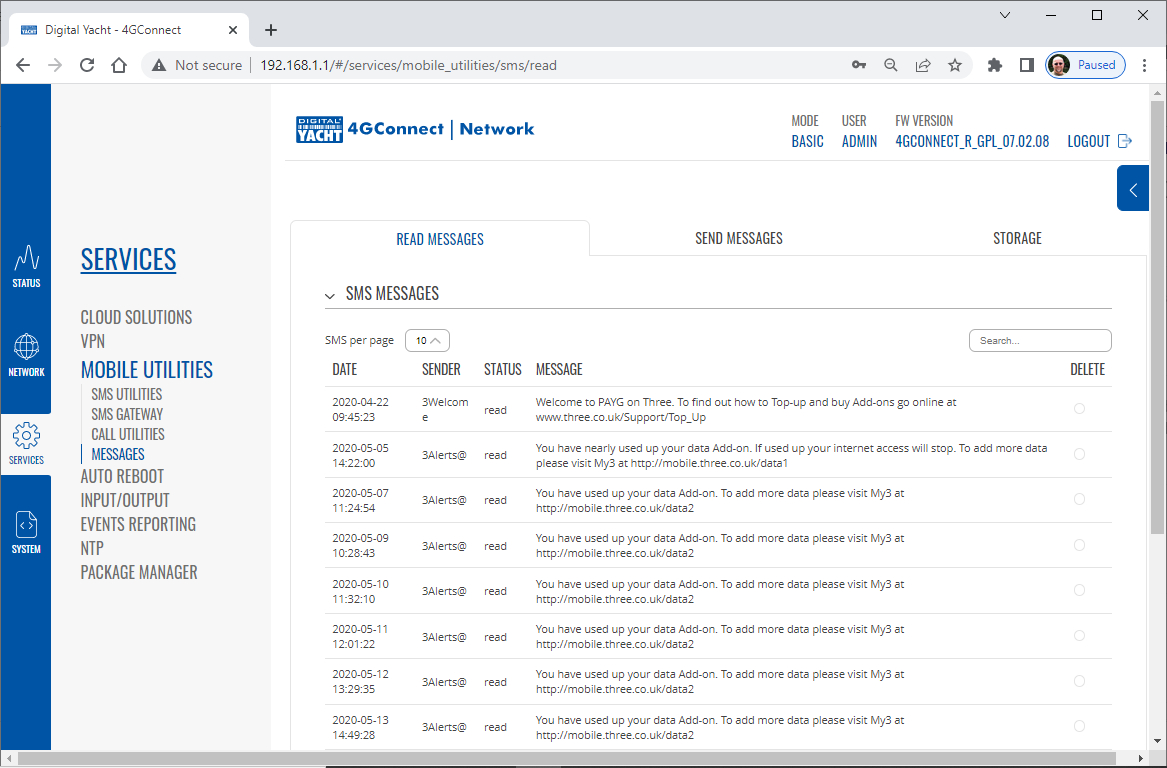 Make sure there are no "Data Limit" or "Roaming" related messages that might account for your loss of connectivity and if you are still having problems after rebooting the modem, which you can do at the bottom of the STATUS>NETWORK page, please contact your network operator to check the status of your SIM account.